Starvoy Technologies reprents Coherent across Canada – feel free to contact us for further information. Blog post & image from Coherent.
This new transceiver leverages the 140 GBaud IC-TROSA from Coherent, which was announced and demonstrated at ECOC 2023
Coherent Corp. (NYSE: COHR), a leader in high-speed optical networking technology, today announced the introduction of its 800G ZR/ZR+ transceiver in ultracompact QSFP-DD and OSFP form factors for optical communications networks.
Artificial intelligence and machine learning (AI/ML) applications are accelerating the exponential growth of datacenter traffic in cloud networks, driving the demand for efficient bandwidth upgrades in datacenter interconnects and optical transport networks.
The 800G ZR/ZR+ transceivers from Coherent are the world's first digital coherent optics (DCO) that can plug directly into QSFP-DD and OSFP transceiver slots on IP routers. Leveraging their high output power of 0 dBm, these transceivers can connect routers directly to access, metro, and regional DWDM transport networks without additional intermediary interfaces, eliminating an entire layer of optical equipment and thereby significantly reducing both capital and operational expenditures.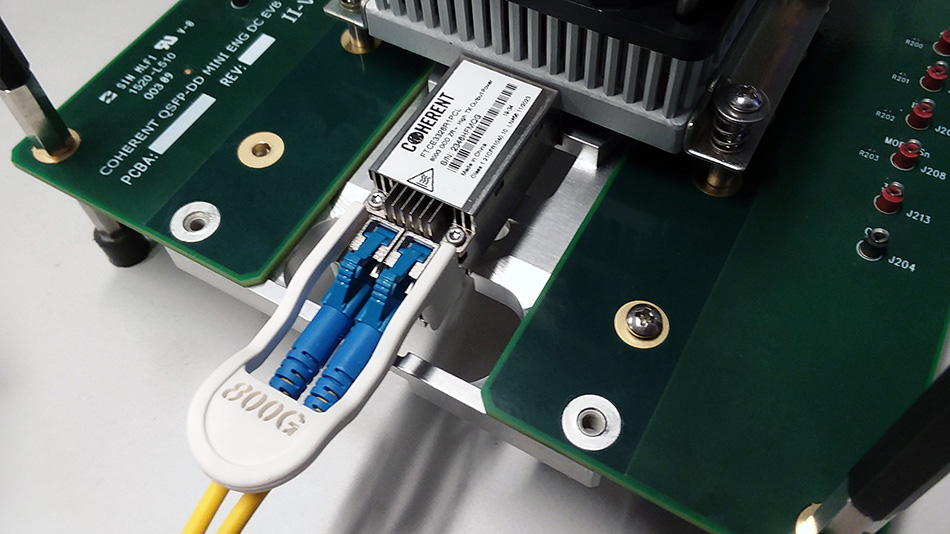 "This 800G ZR/ZR+ pluggable transceiver is built on the 140 GBaud IC-TROSA that we introduced at ECOC in September 2023, which was also an industry first," said Matthias Berger, Vice President, Coherent Technology. "We continue to advance the state of the art of optical transmission in core networks by leveraging the inherent capabilities of our indium phosphide technology platform. Indium phosphide photonic integrated circuits are differentiated by their high output power in combination with high performance, which enables disruptive use cases such as IP-over-DWDM in metro networks."
"We demonstrated the new transceiver with 800G 16QAM for metro/regional transmission and with 400G 8QAM for long-haul transmission," said Dr. Beck Mason, Executive Vice President, Telecommunications. "The module is designed to support multiple modulation formats including QPSK, 8QAM and 16QAM, and multiple data rates between 200 Gbps and 800 Gbps. This 800G transceiver features a high-efficiency indium phosphide modulator and receiver combined with a built-in tunable laser that delivers best-in-class transmission performance and high optical output power."
Alpha samples of the 800G QSFP-DD DCO ZR/ZR+ transceivers will be available from Q1 2024.