Resonant Capacitors: Your Key to Building Stable and Reliable Wireless EV Charging Technology
Blog post from Knowles Precision Devices. Starvoy represents Knowles across Canada, for further information please reach out to our sales team.
As electric vehicle (EV) adoption for both consumer and commercial purposes rapidly grows, so does the need for a more widespread, and faster, charging infrastructure. While we've seen vast improvements in charging technology in the last few years, as additional regulations on combustion vehicles are implemented and reliance on EVs increases, further EV charging innovations are needed. Currently, wireless charging is the newest EV charging technology evolving.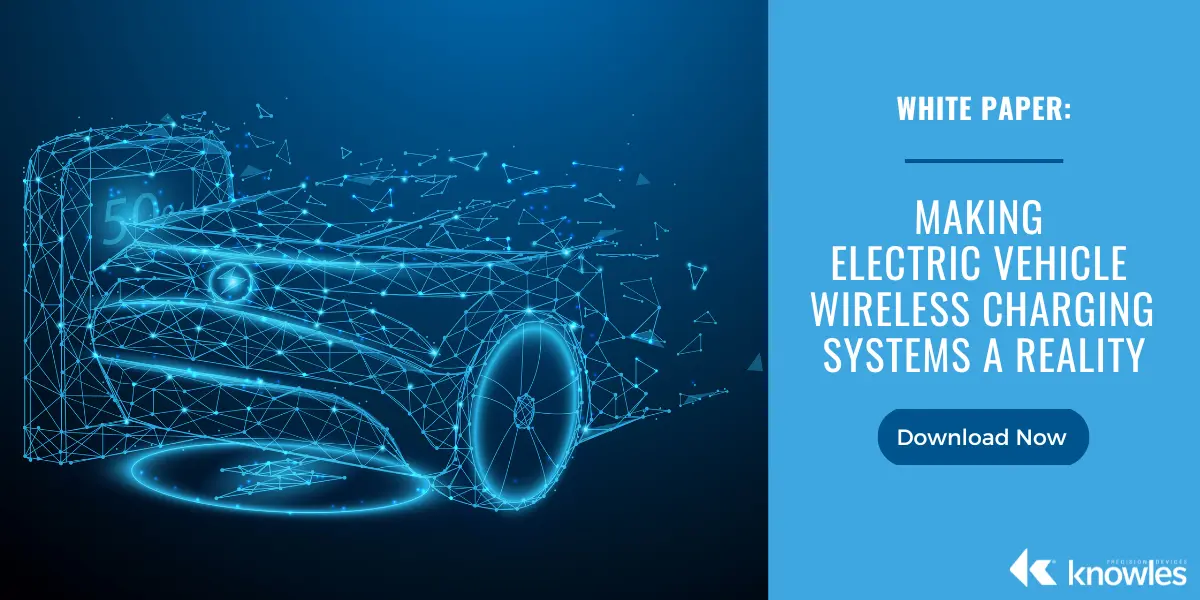 For wireless EV charging, inductive charging is used. This method of wireless power transfer works by creating a magnetic-resonance field between a transmitting pad on the ground that is physically connected to a power source and a receiving pad on the bottom of the EV that is connected to the vehicle's battery (Figure 1).
But there are a number of challenges associated with developing this type of wireless charging solution for EVs including the following:
Ensuring interoperability between the wireless charger and the many makes and models of EVs on the markes
Standardizing components across the wireless receiver and transmitter
Optimizing wireless power transfer to accelerate charging times
Keeping costs competitive with wired charging options
In Knowles' latest white paper, Making Electric Vehicle Wireless Charging a Reality, they focus on how you can address these challenges by selecting resonant capacitors designed to ensure the reliability and efficiency of your wireless chargers' LC compensation network. While resonant capacitor applications today are mainly dominated by film capacitor technology, in this paper, Knowles highlight several reasons multilayer ceramic capacitors (MLCCs), and particularly MLCCs built with their proprietary ceramics, are a much better alternative. They also explore several off-the-shelf and custom resonant capacitor options from Knowles Precision Devices that can help you make your wireless EV charging technology a reality.